In my last post, I mentioned that I had tried some really great beer over the Holiday break. I said I would review them when I had a chance. Well, I finally had that chance. Here we go, my first beer review. A beer review normally consists of the appearance (the size of the head/foam, the color), the smell, the taste, and the mouthfeel. For the appearance, I can't really remember them that well other than color. I'll do my best.
Here, have a portrait of a dog with a monocle.
Sweetwater Dank Tank Fresh Sticky Nugs
Dry Hopped Double Red Ale
This beer was pretty good. It's made by Sweetwater, a brewery based out of Atlanta, GA (
http://sweetwaterbrew.com/). It's a bit gimmicky for me, a little too much of something some die-hard Jerry Garcia fan would make up. Fresh Sticky Nugs? Dank Tank? It makes it off-putting to order in a public setting. I'm just here for the beer, man. The flavor, however silly the joke is, was fantastic. I would have not known it was a double red. It tasted a LOT like a double IPA. The appearance is sort of dark, a red-brown. The smell is delightful - very citrusy and fresh. There is a very slight hint of pine to the smell as well. The flavor - oh the flavor. What a treat. Similar to the smell, the taste had lots of hop and some pine/citrus. There were also hints on caramel. I found it to have a slight bitterness at the end, but not anything too bad. Give it a try if you ever find it.
Sweetwater Seasonal Festive Ale
Another one from Sweetwater (I was in Atlanta, afterall). This one is a seasonal beer. A winter warmer. I really like WWs. They are pretty popular. They typically have sweet, malty flavors with a LOT of malt to both the smell and the taste. They are always dark, but range from red-pitch black. They tend to be spicy and balanced, very little (if any) hop flavor. This one is no different. It is very dark, almost a dark chocolate brown. The smell is of raisins, malt and a hint of chocolate and cinnamon. The flavor is fairly smokey with chocolate, raisin and molasses undertones. It's a medium bodied beer. Very drinkable. Not my favorite winter warmer, but definitely not bad.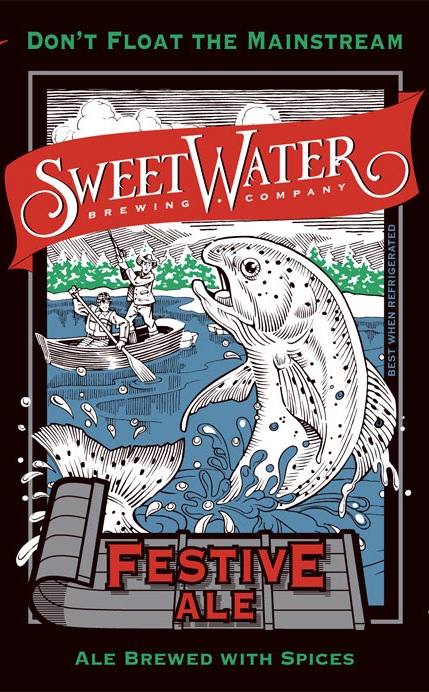 I think this one was the best of the bunch. Oh man. OH MAN! Newly based moved from Asheville, NC to Decatur, GA, I am a big fan. Granted I only had this one, but if all of their brews are like this one? Damn. First off it has a good, deep amber brown appearance. It smells of coffee, malt, slight hop, as well as a bit nutty and there is tiny hint of oak. It tastes the same as the smell, only in levels. Seriously, it's incredible. I wish I could put into words how great it tasted. First your mouth is hit with a rich coffee flavor, followed by a smooth, deep, nutty taste. Then comes this bite of a warm, oaky flavor - a "hot" alcohol flavor. Not spicy, but truly warm. Almost like a good whiskey or scotch. Medium body. Great, great beer.
5 Seasons brewery (
http://www.5seasonsbrewing.com/ )
was the local microbrewery and taphouse we went to for lunch one day. They make a large selection of beer. Every one that I tried, I liked. Some weren't great, but I liked them anyways. First up was their w
inter warmer. This one was good, almost identical to the Festive Ale, maybe a tad less spicy. The smell and taste are alike with low cinnamon flavors but high on chocolate and malt. Nice and creamy mouthfeel.
Their Echo St IPA was amazing. A wonderfully bright, IPA. Beautiful hop flavors and smells, with a brisk citrus tone. Some earthy, deep, herbal hops as well. Sort of a walk through a forest. Clear malt as you enter the beer, fading into a medium herbal taste as you get deeper from the edge, then a kick of pine and earthy hops at the end. Smooth and freshly carbonated mouthfeel. I highly recommend it if you're ever in the area.
The 5 Seasons Pumpkin ale is one of the better pumpkin ales I've had. A very nice body and color - deeper than I expected, but not off-putting or anything bad. Just different. Smells and tastes like a pumpkin pie without the sweetness. Lots of spice - nutmeg and cinnamon with some brown sugar. Finishes with a flavor reminiscent of pumpkin, but not too "vegetabley." This one has a good mouthfeel – full and smooth.
Dark Star Stout is up next. This is a nice, heavy Irish dry stout. A nice
chocolate
, malty smell. Dark chocolate flavor with malt dominates the taste here, but with some coffee flavors buried in there somewhere. The body is full. Similar to a Guinness, it's a dark color and heavy, but smooth and lightly carbonated. The better of the two stouts, in my opinion.
The final beer I tried at 5 Seasons was their Mayan Coffee Stout. A really HEAVY stout. Extremely dark, almost black. This stout smells like coffee, to be honest I don't remember much of any other smell. The taste was similar, with a dark roast coffee taste overriding everything else. There was a hint of chocolate and malt, like any stout, but the coffee really shines through in this one. Even the chocolate flavor has no sweetness to it. Not my particular favorite, which was disappointing as I REALLY like stouts. I recommend a 50:50 blend of this one with the winter warmer. Our server suggested it and I think it was better than the coffee stout alone.
Welp, that's all for now, methinks. Until next time, keep calm and have a beer :)